Flowering bushes offer gardeners year after year of color and texture. These landscaping workhorses deliver years of satisfaction by creating structure and tone. But choosing the right flowering bushes for the South can be overwhelming.
So, which flowering bushes are best for the South? Some good doers for warmer climates include hardy and tropical hibiscus, Arabian jasmine, camellias, azaleas, lantana, plumbago, princess flower, golden dew drop, firebush, blue porterweed, and gardenias.
Which Are the Best Flowering Bushes for the South?
Add drama and structure by using flowering bushes in your Southern garden. Most offer year-round color and evergreen foliage, while attracting wildlife to your yard.
Here are 12 of our very favorites:
1. Arabian jasmine
Arabian jasmine (Jasminum sambac) delivers delicate and delicious-smelling white flowers. They're also evergreen, so your garden will never look bare and scrubby in the colder months.
Even better, they're fine with a little shade, though you may not get as many blooms. They can spread with a few viney offshoots (perfect for cuttings), but you can also keep them pruned for container gardening.
On the whole, they're a large, showy bush that requires very little maintenance.
2. Azalea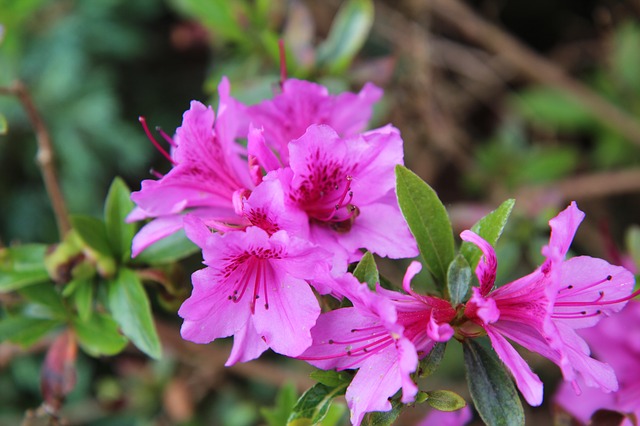 When you think of gardening in the South, you think of azaleas. These big blousy bushes set blooms in such an explosion of color that you can't help but be tempted. And the range of colors is just as exciting, with whites, creams, pinks, reds, purples, and even oranges. Their evergreen foliage provides year-round structure
Most gardeners think it's a must if you're growing in the warmer zones. However, if you're gardening in Zones 10 and 11, you may need to pass.
3. Blue Porterweed
This shade-tolerant flowering bush is a favorite of bees and butterflies and gives your garden a tousled, cottage feel. In 9B and below, it winters over well without any protection at all. It may even do well in Zones above if planted in a protected spot.
This is another one of those special plants that tolerate – and bloom well – in dappled shade. And best of all, it doesn't sprawl out of control. While you can prune it, it rarely grows more than 4 feet high and 3 feet white. You may want to prune it back hard in the spring to encourage denser growth.
Blue Porterweed isn't terribly thirsty, but it does require water once a week. And it may need more during hot dry spells and will let you know when it needs a drink in the summer.
4. Camellias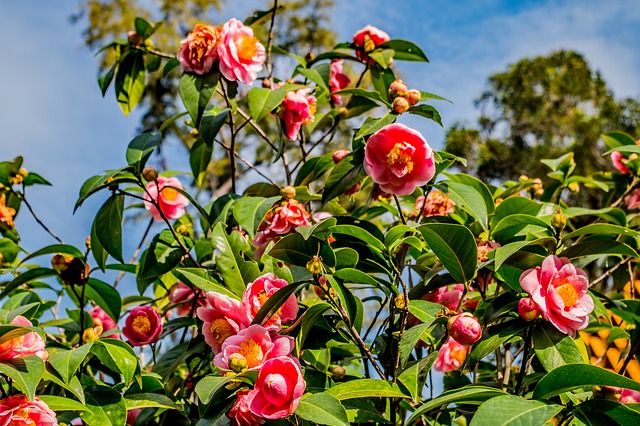 Camellias are considered a go-to for best flowering bushes for the South. They've been a favorite since they were imported from China over 200 years ago. That may be because they bloom in the fall and winter, when most other flowering bushes have settled down for the year.
Their evergreen foliage provides privacy screens, and they do well in shady areas. Finding good flowering plants for shade is a real task in the South, but camellias have your back on this one. They bloom better in dappled shady spots than in sunny areas.
Plant camellias in acidic soil and give them three years to get established. Fertilizer with plant food for acid-loving flowering shrubs right after they're done blooming.
Make sure you choose the best type for your zone. Japonica thrives in warmer regions, while sasanqua flourishes further north.
5. Firebush
Firebush, or Hamelia patens, is a magnet for bees and butterflies and perfect for Zones 8 to 11. This semi-woody perennial produces bright red and orange flowers, although colors differ between cultivars. That includes its foliage, which can range from deep green to yellow.
This beauty loves sun, though it can manage a little shade. Best of all, it's pretty salt-tolerant, so it's a good doer in coastal gardens like mine.
This Florida native delivers blooms year-round and can get up to 10 feet tall. Or, you can keep it in a pot to keep it small or choose a dwarf variety.
6. Gardenia
Some people think that the perfume of gardenias is just too cloying, but there's nothing like catching that sweet aroma on the top of the breeze. They're also prodigious bloomers, perfect for tropical and subtropical gardens.
They're a bit fussy, so I grow mine in pots so I can move them during the year to partially shady spots in the summer. They also like a lot of water, and I find that easier to accomplish in a container.
The luxurious-looking flowers come in a range of white, from stark to cream to nearly yellow, depending on the cultivar. They prefer acidic soil but aren't too fussy about its density as long as you ensure good drainage.
7. Golden Dew Drop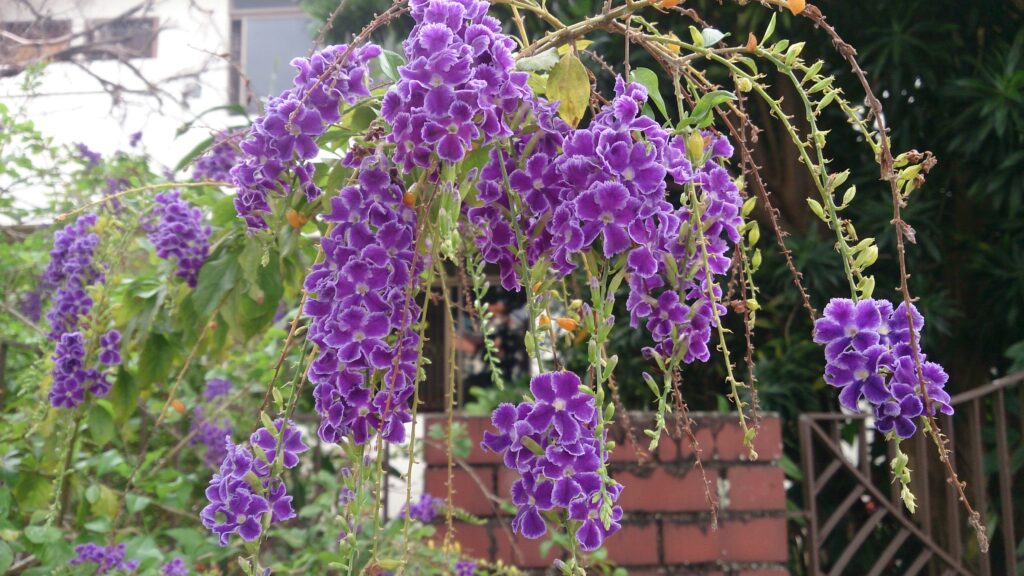 Golden Dew Drop (Duranta erecta) is another favorite of pollinators and it adds great flowering drama in any Southern Garden. The weeping branches become covered in tiny purple flowers, which then become bright golden berries – hence the name.
Best of all, it blooms all year round in Zones 9 to 11.
It can get shaggy and overwhelming, but if you're competent with pruning shears, you can keep it from growing to its max height of 18 feet. I've trimmed mine to grow into trees, with hanging branches covered in flowers, because I'm just too impatient for wisteria.
Caveat: The berries on Golden Dew Drop are poisonous to humans, so make sure you keep children from eating them. Luckily, they don't drop easily, so they're easy to trim and dispose of regularly.
8. Hardy Hibiscus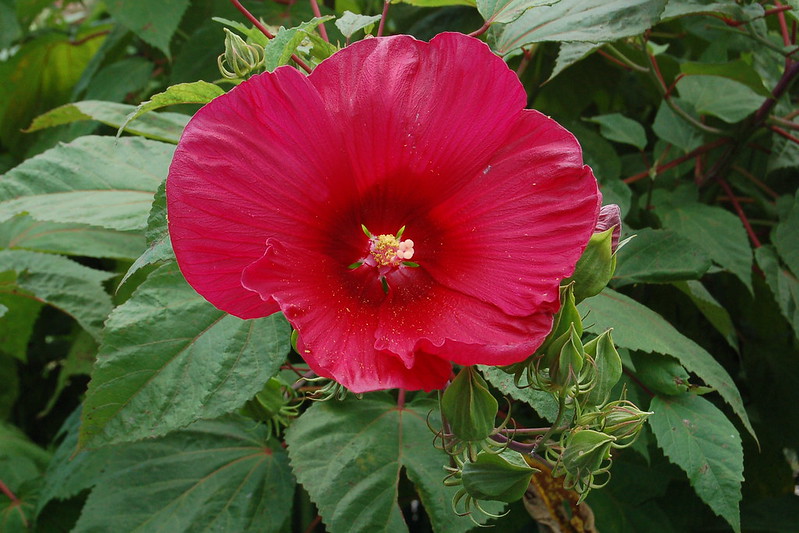 Hibiscus gives your landscape a tropical feel, but some hardy types will do well up to Zone 4. In the South, we can usually grow both hardy and tropical hibiscus, which offers so much beauty for little effort.
Hardy hibiscus is a slower growing flowering bush, but they're easy to care for. They like full sun and plenty of moisture and mulch. However, you won't have to prune them as frequently as the tropical type. Best of all, hummingbirds love them.
9. Lantana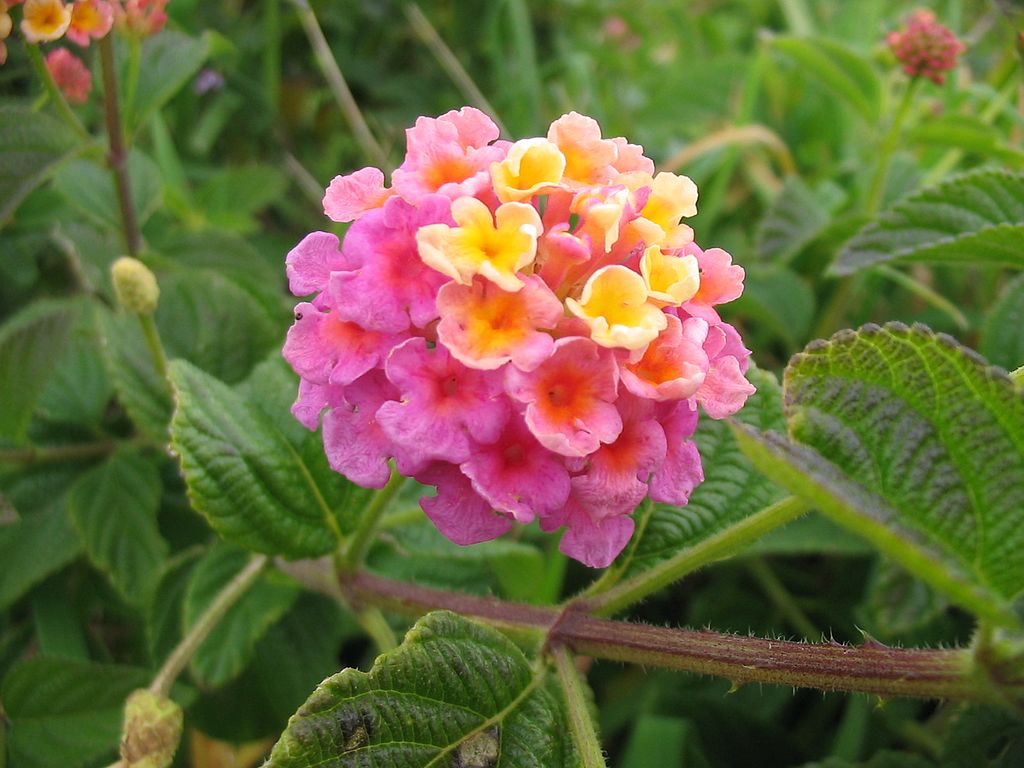 Lantana camera is probably one of the most contentious landscaping plants in the South – except maybe for Angel Trumpet.
Part of the verbena family, they attract butterflies, bees, and hummingbirds into your garden. But some gardeners regard them as a noxious weed, with a few even calling them invasive.
Florida has a native lantana that is currently endangered. Unfortunately, some disreputable plant retailers are sloppy with labeling, causing many gardeners to purchase yellow L. camera in the belief that they're supporting native plants.
I must admit that the hybrids offer some distinct advantages. You can find them in mounding types, which is a pleasant change of pace from the sprawling weediness of the original variety. You can also find them with variegated flower clusters, which provides a lovely color combination.
While many people are not fond of their aroma, lantana is hardy and hard to kill.
10. Plumbago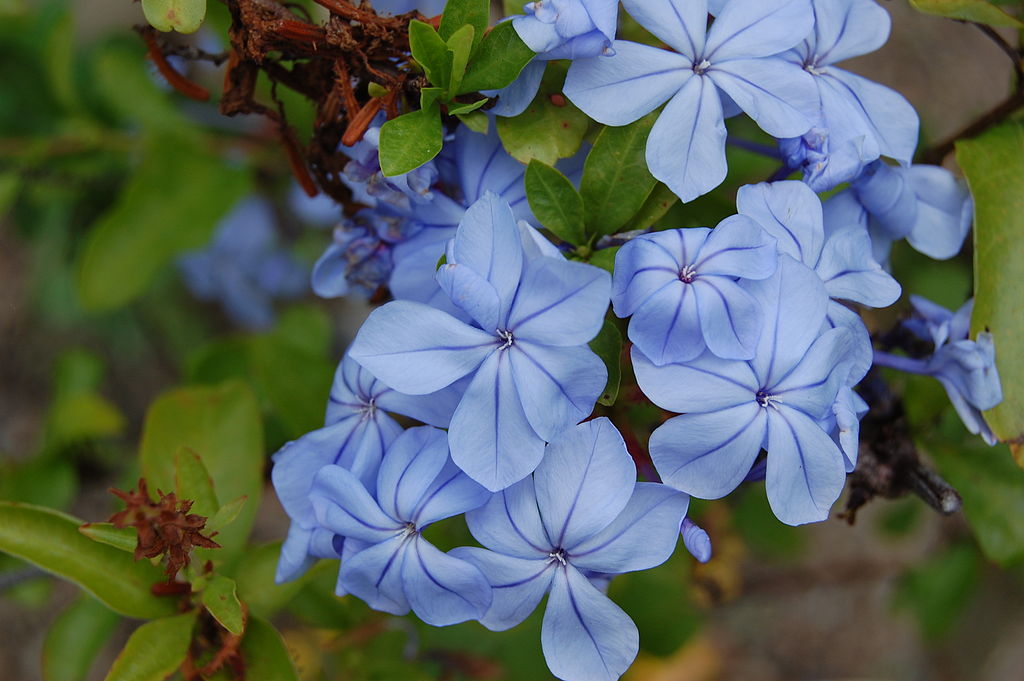 Although it sounds like a Victorian disease of the aged, Plumbago auriculata is a real doer in the garden if you take time to establish it properly.
This flowering bush explodes after the first year and is covered with blue flowers that resemble phlox. Bees seem to adore it, so it's worth adding to any Southern pollinator garden.
You can plant it out at any time of year in Zone 9 and below, and it will flower all year round. Note that it can be a pretty hungry plant, though it seems pretty tolerant of drought. Feed it well the first year, and it will grow at a disconcerting rate of speed. Forget to feed it, and you'll get a yellow and sad-looking scrubby bush.
You can also find a white variety (alba) that to me seems less vigorous than the blue types. I've struggled to grow the white type from cuttings, while the blue takes pretty easily.
11. Princess Flower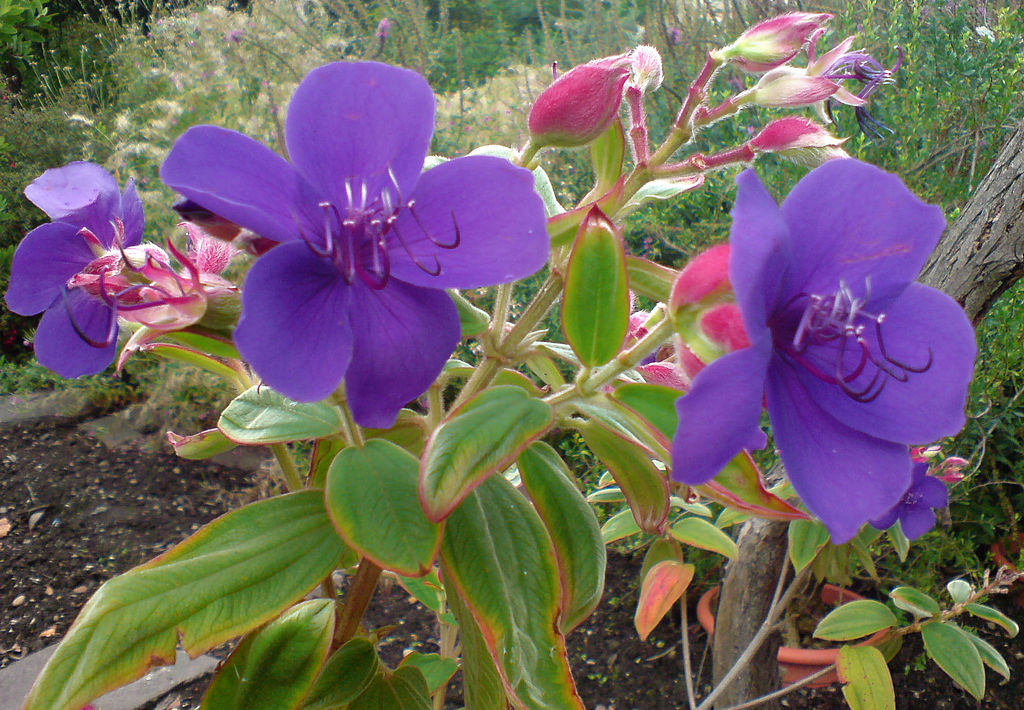 Technically known as Tibouchina urvillena, Princess Flower is a gorgeous tropical flowering bush that grows well in Zones 9 to 11. Although it may reach tree-like stature, most Southern gardeners keep it trimmed to bush size.
It will die back if exposed to frost, but in lower zones, you can cover it on nights it gets below 40 degrees Fahrenheit. And it is also suitable for containers for overwintering indoors in cooler climes.
It also doesn't like to sit in the wind, so plant it in a protected corner.
Like Blue Porterweed, Princess Flower can be thirsty, but it's worth the effort. They're also shade-tolerant, and I've found that mine does poorly in the scalding, Zone 10 summer sun.
It's a tropical plant, so it's used to rich soil; you'll need to feed it regularly during the growing season. I feed mine a high nitrogen fertilizer once all risk of frost is gone and then switch to a high-potassium formula when it warms enough to flower.
12. Tropical Hibiscus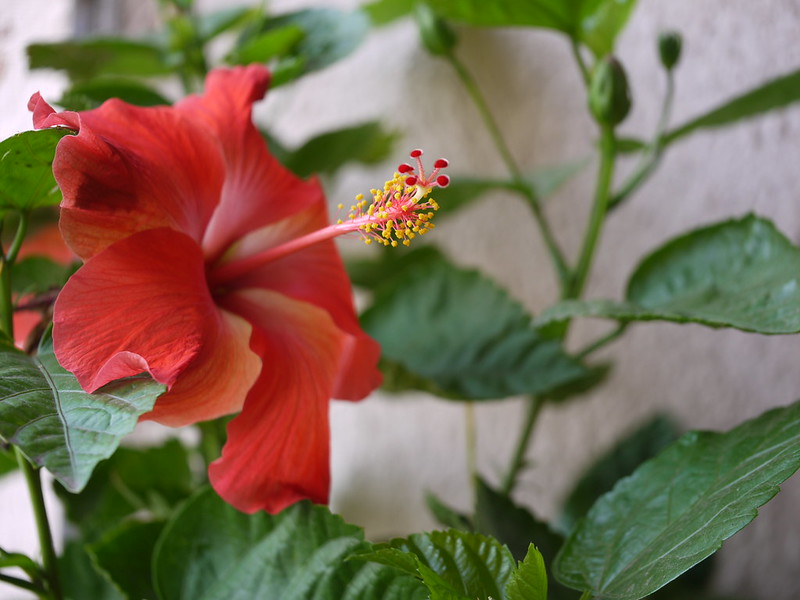 Popular in coastal gardens along the Gulf of Mexico, tropical hibiscus gives a very Caribbean feel to your landscaping. While most cultivars are hardy in Zones 10 and 11, you can easily nurse them through winters up to Zone 8.
Like hardy varieties, they love full sun and plenty of water. Mulch them heavily to keep them thriving.
How to Pick the Best Flowering Bushes for the South
Check your local home improvement store or nursery to find starters or seeds. You can also purchase them in 1, 3, and 5-gallon size containers if you want instant gratification. One advantage to this is that you know what they'll look like when they bloom and can take cuttings immediately to propagate.
Patience pays off when it comes to flowering shrubs. Once they've gotten established, the best flowering bushes for the South will bloom year after year, attracting bees and butterflies into your garden and giving your landscape real curb appeal. your perennial garden plants will bloom year after year.
Image CC0 via Pxhere