You'd think that vegetable gardening in West Central Florida would be easy. But between the annual rainy season and the blistering sunlight, it's definitely not. Our milder weather may give us extra time for gardening, but even here in Zone 10a, it can get cold enough to chill delicate plants. The best greenhouse kits for Southern gardens will provide protection from frosts, hot sun, and torrential downpours.
Even though it's only early April, the sun is already scorching my peppers and blistering my summer seedlings. My tomatoes have already been frost-bitten AND fried. Granted, I have a love-hate relationship with tomatoes.
My husband promised to build me a greenhouse. He even described his elaborate plans to reuse some PVC pipe. That was last March, after we had already spent four months rushing outside during the rare bitter cold snap, teeth chattering, covering tomato plants with every spare sheet or blanket we could find.
Yes, that was over a year ago. So, I'm taking matters into my own hands and doing some research.
Why Do You Need a Greenhouse in the South?
While I have three growing seasons here, it seems that my fall garden plants just get started producing in the winter when we suddenly get a cold snap.
It's the same with the spring — they just get established and start to bloom when a blistering hot day puts an end to progress.
But what if I could really grow food all year round? It's entirely possible if you have one of the best greenhouse kits for extending the season.
For example, it's still too hot and humid in September to grow large tomato varieties, and they don't really get going until October. That leaves them vulnerable in late December and January.
And while most people use their greenhouse in the winter, I'm thinking that I could also use it in the summer by adding a shade cloth to keep out the worst of the afternoon sun. I spent most of last summer propping shade cloth over even my most heat-tolerant summer vegetables.
Wouldn't it be great to have a shade house in place to save time (and sunburn)?
Most gardeners in the South just take the summer off. But the best greenhouse kit could be quickly modified with some shade cloth.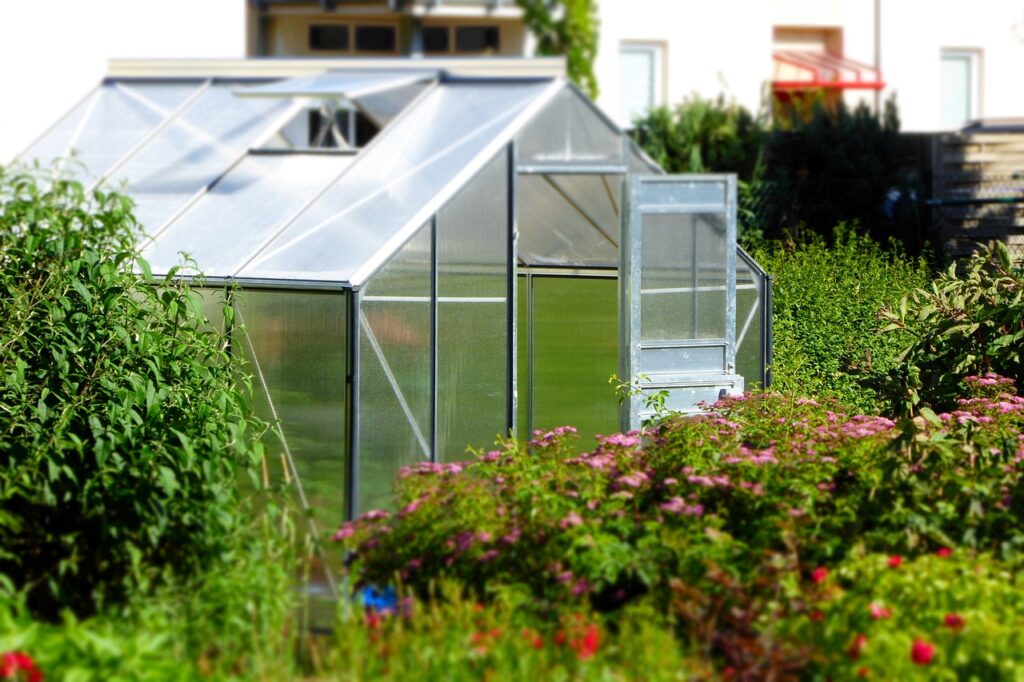 A Jump on Spring
I normally start my spring seeds in December. But quite frankly, I don't have enough room for everything if we get a cold night. Last year, I moved dozens of seedlings inside when the temperatures plummeted. I lost a few trays because I foolishly stacked them and they crushed each other.
But a greenhouse means I'll have plenty of room to keep my starts toasty and safe all winter long. I may even get some spring tomatoes this year.
Variety is the Spice of Life
Speaking of tomatoes, because I live in an area of the country that suffers from terrible heat and humidity, I have trouble growing big tomato varieties. They just suffer under the sun long before they produce.
So, I've been focusing on early maturing varieties and cherry tomatoes – which means I don't get to enjoy the wide variety of heirloom vegetables I want to grow.
Choosing the Best Greenhouse for Winter
Too often, I'll jump into buying something for my garden on a whim. Just ask me about all those soaker hoses I bought last month.
But in this case, I'm doing my research and due diligence before making a big purchase that will take up a lot of yard space.
Here are some things to think about before choosing a greenhouse.
Code Violations
In some neighborhoods or towns, you may need to get a permit. Usually, this will be for a permanent structure, perhaps with an electrical line or water access. You probably won't need one for a small portable greenhouse or hoop house.
But do check with your local planning commission about what type of structures require a permit.
And don't forget to check with your HOA or neighborhood association to make sure it doesn't violate their requirements.
Allocating Space
Do you have enough room on your property for a greenhouse? Sometimes, you'll find that the best place to put it for maximum efficiency is smack-dab in the middle of your back yard.
You'll want it in the sunshine for the winter, but remember that placement under a tree canopy can help protect plants from a hard freeze, too.
Make the most of any southern exposure available to help keep your greenhouse warm. Also, placing your greenhouse near a light-painted wall with southern exposure can be the warmest spot in the yard. Buildings can reflect sunlight onto nearby plants as well as absorb heat during the day and release it over the night.
Place your greenhouse so it gets at least six hours of sunshine during the day. And remember, it's also a good time to trim trees and bushes during their dormant periods.
Accessibility
You'll also want to place your greenhouse where it's easy to access from your home. Especially if it gets cold, you're more likely to keep an eye on things if you don't have to freeze to do so.
You may also want access to the outdoor hose bibb or GFCI outlet. Adding a portable electric heater turns even a cheap model into one of the best greenhouse kits for growing vegetables in the winter.
Knowing where you're going to place it will help you narrow down all the possible choices to one that will work best in your garden.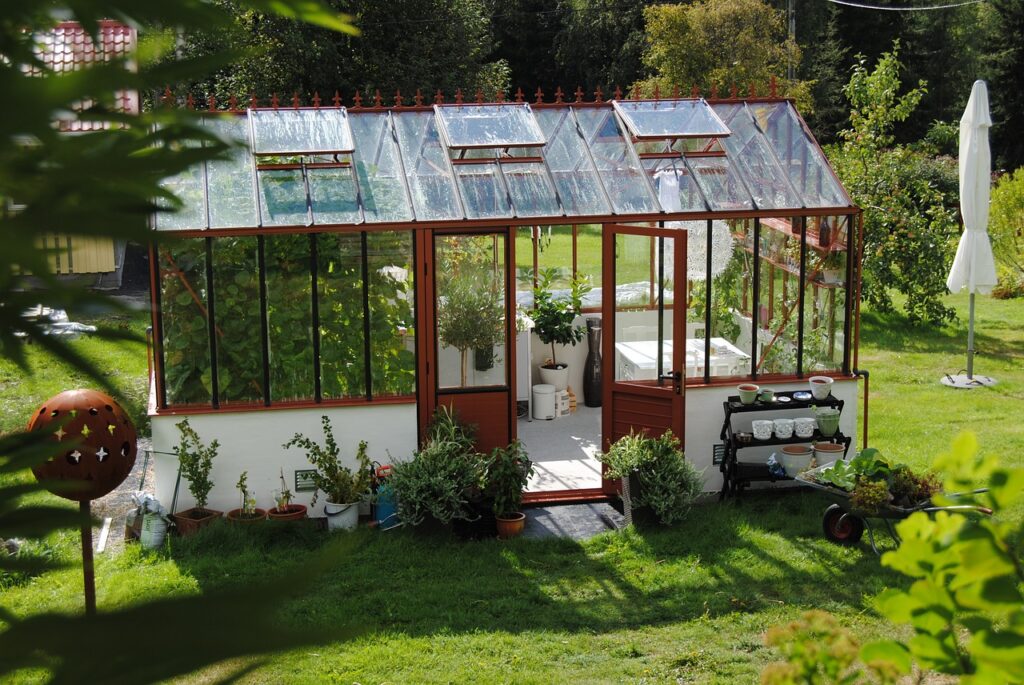 Features to Look for in the Best Greenhouse Kit
Greenhouse kits come in a wide range of price points and durability options. You can find inexpensive models that hold a few shelves of seedlings for very little money. You can also find models the size of a small family bungalow, with sturdy metal frames.
So, think of what features you might need to get started.
How Big?
Last year, I only set up a few seed trays to get my spring garden started. So, I really only needed an economy model.
If you're just getting a jump on spring starters for early vegetables, a smaller indoor/outdoor model will probably be one of the best greenhouse kits for you.
However, if you're growing a significant number of plants and rely on them to feed your family, you may want to look at a more sizeable model. You'll find hoop houses provide plenty of room for low cost.
If you need to overwinter delicate full-grown plants, you may want to look for height in a greenhouse as well as square footage. Check out models that offer shelving systems and hanging hooks.
And if you want to make a statement in your landscape design, take a look at some of the best greenhouse kits from makers like Grandio and Palram. While they do require some DIY skills to assemble, they're much less expensive than hiring a contractor to build one.
Construction Materials
Portable greenhouses use plastic sheeting to protect your plants from the elements. The thickness can vary, but most provide adequate protection from winter chills in Zones 8 to 11.
More durable greenhouse kits use polycarbonate sheets, which are clear plastic, but sturdy like acrylic sheeting.
Poly-Sheeting Greenhouses
Most portable and economy greenhouse kits include polyethylene plastic sheeting and a frame made of aluminum, steel, or PVC piping.
The polyethylene plastic sheeting in kits usually runs between 2 to 6 mils thick. Although it may not last more than two or three years, you can also patch or even replace it should it be required.
Polycarbonate Greenhouses
The best greenhouse kits feature polycarbonate plastic panels in an aluminum frame. While they're more expensive, they're suitable for permanent installation.
However, they're also harder to assemble. Especially if you're planning on adding electricity and water to your greenhouse.
But if you have the DIY skills, they can really make a statement in your landscaping. Many are quite charming and attractive.
Commercial Greenhouse Kits
At one point in my budding horticultural career, I considered starting a hobbyist nursery. Then I discovered that you needed an inspection to sell plants to other gardeners. The good news was that I didn't need one to sell produce.
A commercial size hoop house is just the thing if you have the room or are thinking of expanding into an urban farm.
Remember to check with your local extension office about any laws or regulations in place for your state. But who knows, you may have discovered the side gig that opens up a whole new career.
Best Greenhouse Kits to Consider
While I haven't quite decided which one I need, I have narrowed down my shortlist. I've also added a few others that look like likely options for a wide range of gardeners.
1. Gardman 7600 Extra Wide 4-Tier Greenhouse
If you don't have much space and are looking for apartment patio greenhouse kits, this Gardman model provides roomy shelves and protection from the cold.
This would have been perfect for me last year when I was just planting a few starts for spring.
It measures 63 inches high and is tall enough for four shelves of seed trays. It's 18 inches deep and also extra wide, at 47 inches.
It has a sturdy, modular steel tubing frame that will hold up to the elements. You can also snap it together without any tools.
The reinforced polyurethane cover has a zipper front and each shelf is about 14 inches high. So, you can even add a heat lamp for extra warmth.
Gardman is a UK company that sources its materials responsibly. They have a 27-year history and specialize in garden décor, lighting, and bird feeders.
2. GoSunny Deluxe Greenhouse Kit
If you need a bit more space, this GoSunny model is one of the best portable greenhouse kits you can find for the price.
This greenhouse is 56 inches wide by 56 inches deep, and it stands 77 inches tall. This means you have plenty of room to move around inside.
The powder-coated metal tubing frame is 16mm and the reinforced polyurethane cover is 0.4mm thick, so it's durable and offers excellent protection from any cold spells.
It features straps to hold the zippered door open to allow ventilation, as well as two side windows with mesh.
This greenhouse kit comes with nail stakes and tie-downs to keep your greenhouse in place under windy conditions.
Inside, it offers 12 built-in wire shelves. You can also adjust them to your collection. And the whole assembly offers additional headroom for heat lamps or fans.
3. Strong Camel Large Walk-in Wall Greenhouse
If you're looking for lean-to greenhouse kits, check out this affordable and durable Strong Camel model. You can place it against any exterior wall for stability and reflected heat.
The CO-Z greenhouse is 10 feet long, 5 feet deep, and a generous 7 feet tall. It creates a warm little nest for your delicate plants on cold winter nights.
You can also protect your delicate seedlings from being washed out. The UV protection and green checking also prevent scorching in the dry spring heat.
The door zips open and rolls up to stay out of the way when you're working and to allow in plenty of fresh air on warm days.
It also comes with wire shelving to make the most of the space.
It boasts a tubular steel frame and UV-protected polyethylene cover. You'll also get guy lines, ground nails, and a screw kit for securing it to your exterior wall.
4. Outsunny 15′ x 7′ x 7′ Walk-in Tunnel Hoop Greenhouse
For those focused on high production, Outsunny offers an affordable tunnel greenhouse that offers professional size protection for the backyard grower.
This hoop house is great for year-round growing and urban farming. It's 15 feet long by 7 feet wide and stands 7 feet tall when assembled. So, you can add heaters or fans for year-round use.
The reinforced galvanized steel tube frame is rust-resistant, and the 140 GSM polyethylene cover is reinforced with mesh. This also diffuses harsh sunlight in the summer season and allows 85% of sunlight in.
This makes it the perfect greenhouse for Florida, where the sun can defy even the chill of winter. It also provides much needed shade for spring and summer growing.
5. Quictent Large Portable Walk-in Greenhouse
If you have a long and narrow yard, this Quictent model might be the best greenhouse kit for your garden.
It's 12 feet long and 7 feet wide and measures 7 feet high.
The powder-coated steel frame offers extra support from middle rails and the polyethylene cover is extra long for attachment to the ground for stability.
It's easy to assemble with Velcro straps and plenty of stakes to hold it down. There are doors on either end as well as six screened vents on the side for superior ventilation.
Quictent is also a Texas manufacturer with an A+ BBB rating, and they offer camping tents as well.
6. Evedy Polycarbonate Greenhouse
If you're in the market for the most affordable heavy-duty greenhouse kits, this model from Evedy is one of the better aluminum greenhouse kits according to buyers
If you're looking for a permanent installation for your greenhouse needs, this Evedy model may be one of the best greenhouse kits for you. With sturdy construction, you can bet it will last.
It features an aluminum frame. The wall and ceiling panels are 4mm transparent polycarbonate.
It comes with an adjustable roof vent and two sliding doors for excellent ventilation.
Measuring 6 feet by 8 feet by 6.5 feet high at the center, you'll have plenty of room for potted trees and hanging plants.
7. Palram HG5508 Hybrid Greenhouse
Palram greenhouse kits are popular with gardeners because of their good looks and durability.
This Palram Hybrid greenhouse offers 4mm twin-wall polycarbonate roof panels to protect from the cold and reduce dangerous UV rays and prevent your plants from burning. The wall panels are crystal-clear for visibility and light transmission.
It boasts a rust-resistant aluminum frame, in silver or powder-coat green. You also get an adjustable roof vent, rain gutters, and a lockable door.
Measuring 6 feet wide by 8 feet long, it has a 7-foot ceiling so you can stand inside comfortable while working.
Greenhouse DIY
If you're looking for a build your own greenhouse kit, you'll find plenty of plans available online. All it takes is a few DIY skills and access to your local home improvement center.
And depending on your needs and ambition, you can build something as simple a hoop house or something as intricate and challenging as a solar-heated grow hut.
Walden Labs offers free plans online. I've been saving soda bottles for their Recycled Model for about a year now.
And if you're looking for a fun craft, this small greenhouse DIY uses CD cases to create a cloche for a treasured favorite.
Gimme Shelter
I'm still not sure which one I'm going to opt for, but something tells me that I'm picking out my own Christmas present this year.
Either way, the best greenhouse kits are the ones you can afford and the ones you can use.
It may seem odd to get a greenhouse when you live in Florida and only get a few cold nights a year. But it will be nice knowing that I won't have to stumble around in the dark, covering up whatever I can manage to see with whatever I can manage to find.
Do you have a greenhouse or hoop house? How did you finally settle on what kind to buy? Share your greenhouse tips in the comments.