You would think that August would be the worst month of the year to do any gardening, especially in Florida.
It's hot, it's humid, the daily rains pound baby plants, and the heat index regularly hits the three digits.
Weirdly, ironically, and in a typical Floridian manner, August is one of the best months of the year to get started on your fall garden.
For the most part, I defer to the UF/IFAS Gardening Calendar, but I also find it kind of lacking. While the conservative approach would be to use this as my gardening bible, they sometimes miss a few opportunities for some of the more unusual varieties.
But you know, that's why they're there – to provide a slow, safe approach that any gardening newbie will find useful and accessible. It's a fabulous resource and they go far out of their way to make Florida gardening rewarding.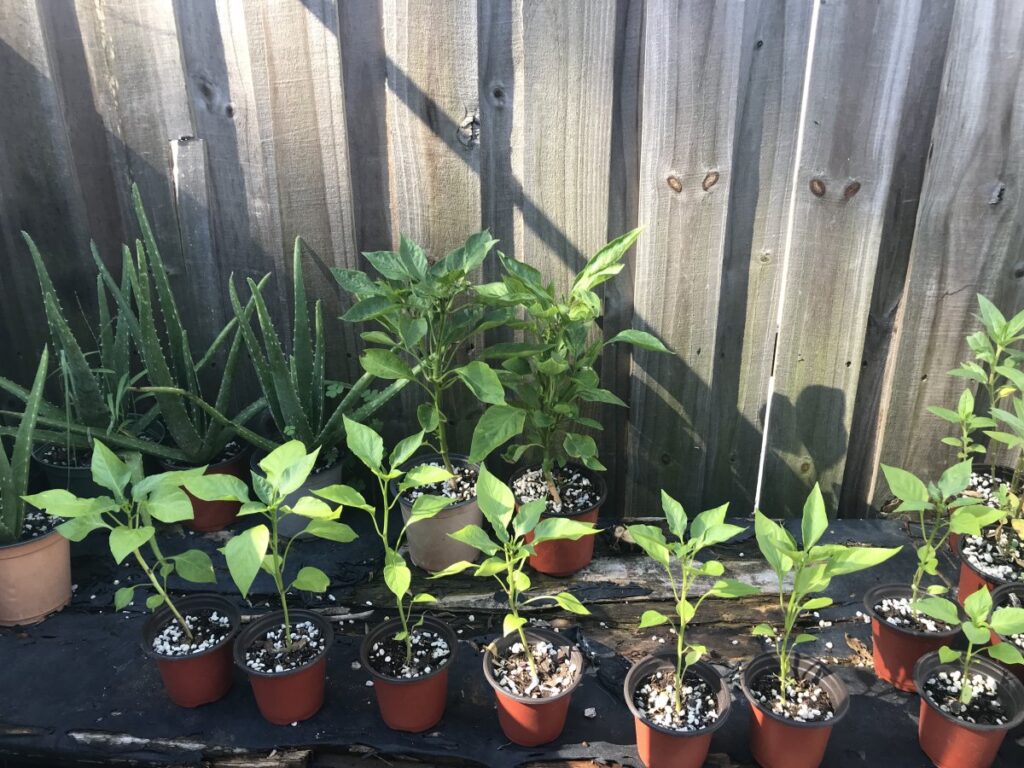 Rebel Without a Pause
I don't have a lot of land to experiment with – it's just a 1/10th acre suburban plot. But I do have a lot of curiosity to satisfy. And a pack of seeds is only $4 at the most. So, why not push the zone and play with the calendar?
I also have to say that I live in a somewhat nebulous space, zone-wise. Clearly, around Tampa Bay, I'm in Central Florida. However, because I live on the Gulf Coast (within walking distance), I'm in a South Florida USDA zone.
Combined with microclimates, south-facing walls, shade cloth, overhead canopy trees, and the usual independent Floridian spirit, I'll admit that I occasionally thumb my nose at institutional planting calendars.
And let's not even talk about the planting maps on the back of seed packets.
Seed packets lie.
August is Time to Sow Seeds
Regardless of my personal desire to buck the system, even the IFAS admits that August is a good time to start sowing seeds for the fall garden. Depending on where you live in the state and the conditions in your garden, it's time to start everything from tomatoes and calabaza squash to broccoli and cabbages.
I've been looking for the most heat-tolerant and disease-resistant varieties in the last couple of years and have found a few winners. In fact, even though I'm in 10A, I've started my broccoli already this year using the Piracicaba seed from Whitwam Organics.
I even had some sprouting in June, until my chickens decided to escape their coop and grab some lunch!
These producers really stand up to the heat. They do need some time to get going, however, so I went ahead and started seed cells undercover to give them a head start. Once these plants start producing loose brocolette heads, it's amazing how much they deliver.
Heat-resistant Everglades tomatoes are already growing big and strong, and now that I have my official Florida nursery registration, I'm hoping to share these with others in my Etsy shop or sell locally at farmer's markets or Facebook marketplace. I've planted several out already, but I want to save room for other varieties.
Other tomato varieties in the pipeline include vining cherry types like Sweeties and Gardener's Delight. Larger varieties started include Floradade and Marglobes. Both are determinant varieties recommended for Florida growing.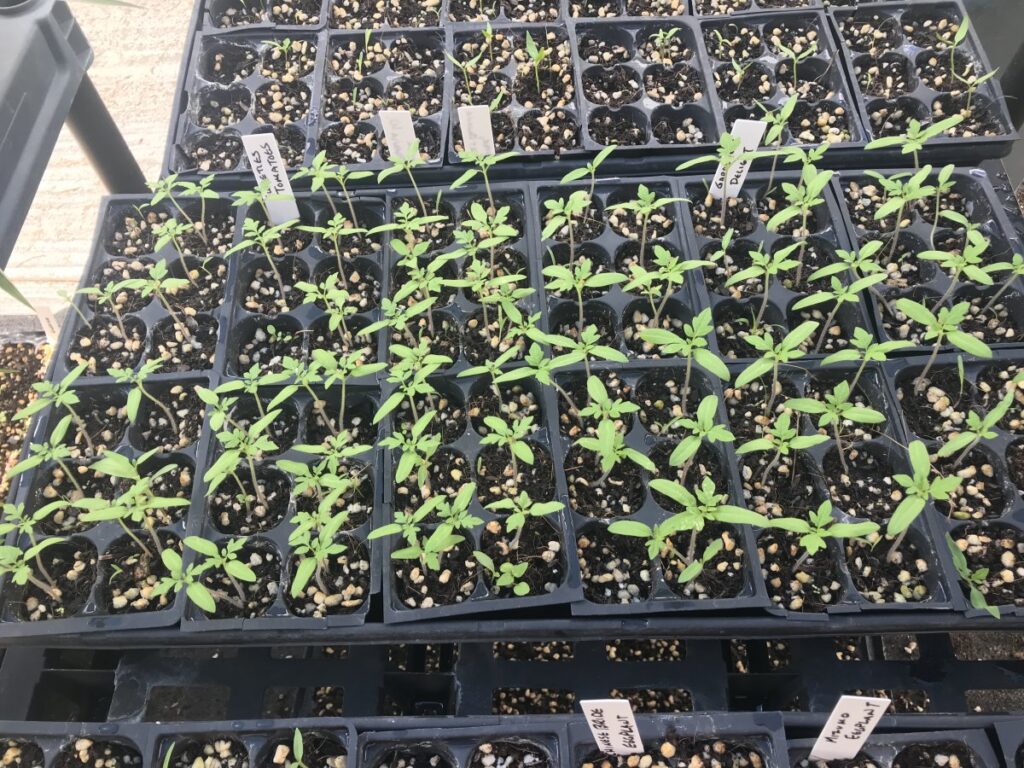 I tend to prefer determinants because they don't need a trellis. Plus, I'm short. Most of all, I often get a more satisfying yield when they produce all their fruit in a few weeks. Indeterminants seem to struggle on forever, giving me false hope when I need to just face the facts, pull the plants, and compost the remains.
RELATED READ: My Love-Hate Relationship: Growing Tomatoes in Florida
On the eggplant front, I've got Black Beauty, white Chinese Bride, and Japan Mizuno types in seed trays. I've had a lot of luck with eggplant in my location and got a serious glut of Black Beauty last year.
What to Plant Where
In North Florida, you can start cool-season crops, like broccoli, Brussels sprouts, cauliflower, and both traditional and Asian cabbages. You can also still start warm-season vegetables, like tomatoes, eggplant, and squashes.
In Central Florida, it's time to sow warm-season vegetables only, like tomatoes, eggplant, peppers, and summer and winter squash. You can sow cool-season veg in starter trays in September.
South Floridians can start and plant out heat-loving edibles like tomatoes, tomatillos, eggplant, okra, pineapples, and sweet potatoes. September is better for cool-season starts.
Or, if you're like me, you do you and start what you think will thrive. But hold back some seed just in case.
Weather to Direct Sow
Because August seems to be the worst for me when it comes to summer storms, I use module trays and start my vegetables undercover rather than direct sowing. Coastal living comes with some destructive weather, so I error on the side of caution. Using seed trays lets me keep seeds and seedlings protected until the weather calms down or the plants are big enough to handle the downfall.
It does mean that I spend a lot of time carrying seed trays back and forth, but I've seen so many early starts drowned out that it's worth it. About two weeks ago, we got 5 inches of rain in just a few hours, and that's just too much for my little seedlings to take.
Aside from bush and climbing beans, I prefer using starter trays. YMMV.
Gardening Goals for Fall 2021
When the weather cools down, I'll be experimenting with Charles Dowding's multi-sow technique for root veg. The technique advocates planting three or four turnips, rutabagas, or radishes in one cell. According to the no-dig guru, they will transplant easily and grow just fine. The goal is to twist out the largest of the clump, leaving room for the remaining roots to develop further. I'm looking forward to seeing if it really works.
August always leaves me feeling conflicted. It's just still too stinking hot for that back-to-school, autumnal mood required. Why do they start kids in school in August? Why should we start sowing vegetables in August? The heat index of 107°F yesterday does not put me in the mood for school uniforms and cauliflower soup. So, sometimes it's a struggle to stay on track.
But like most gardeners, I've got plants… I mean plans… BIG plans. Gardening plans.
What are you growing this fall in your southern garden?