The end of summer often means we get a lot more than we bargained for, which isn't a bad thing unless you don't know what to do with it all. Learning how to preserve a summer glut is one of the key homesteading skills you learn early. Dehydrated eggplant is an excellent pantry staple and easy to use.
For me, the summer glut turned out to be eggplant last year. We were buried in the stuff. Now, I like eggplant, but it wasn't long before we got a bit sick of eating the stuff.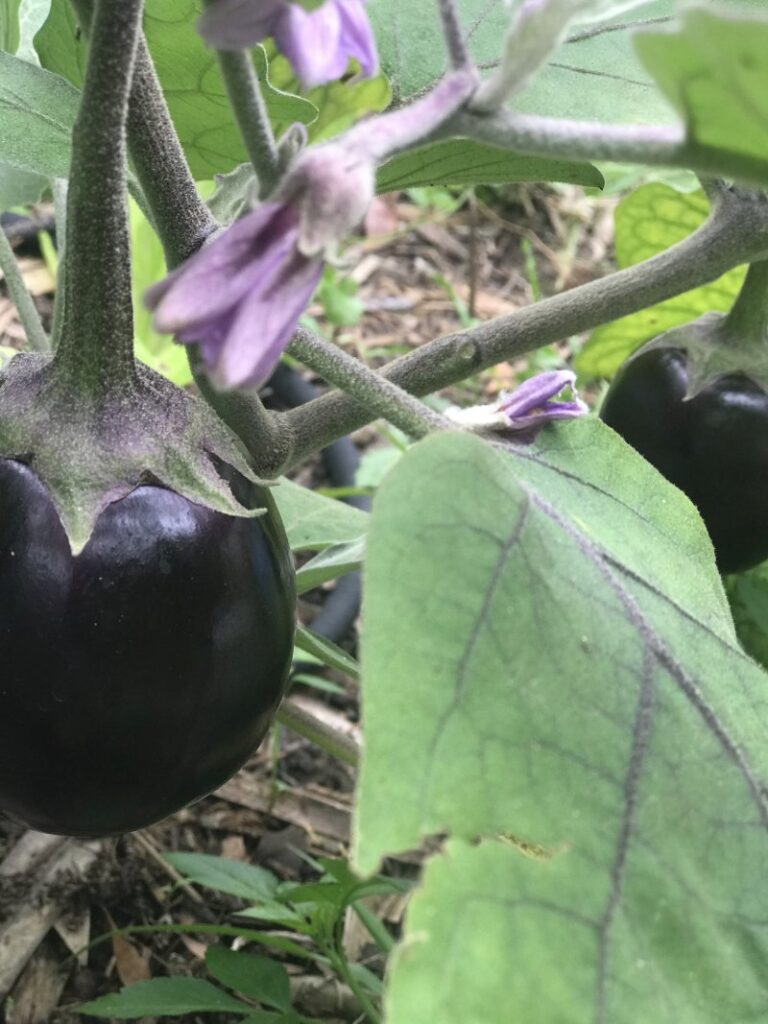 Time to pull out the dehydrator!
We've got a Nesco American Harvester that has to be 30 years old if it's a day. Works fabulous. I got bags and bags of dried eggplant that still remain good on the shelf whenever I need them.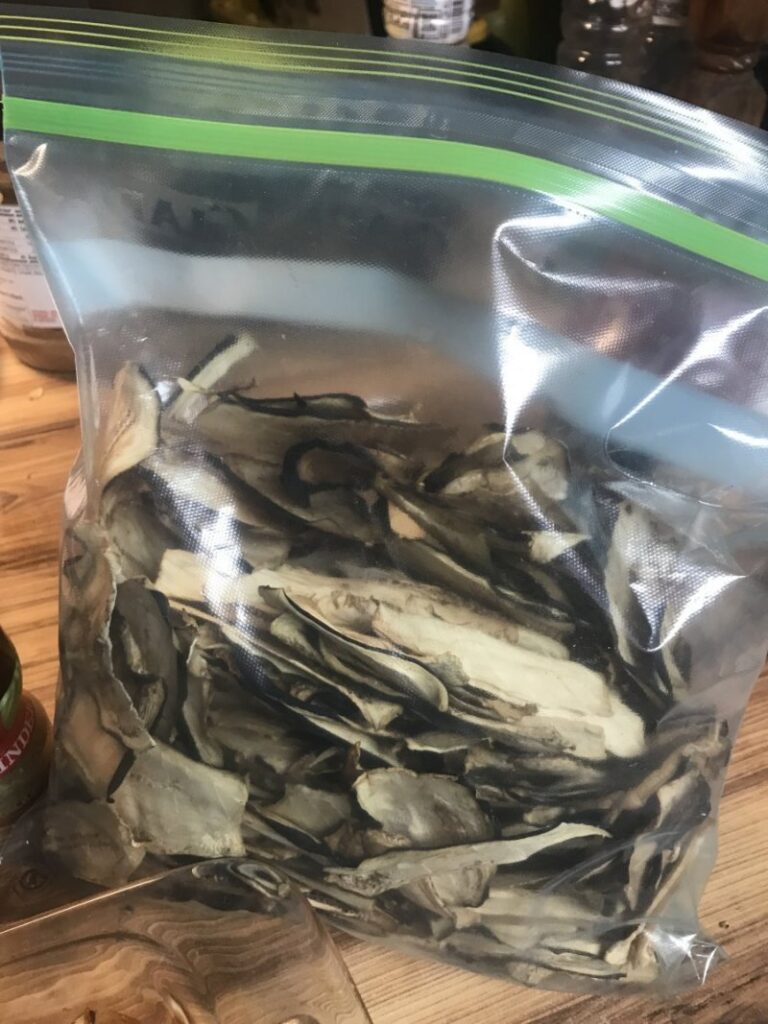 Low Carb Eggplant Lasagna
Best of all, I've been able to integrate them into a keto / low carb menu all year. My favorite way to use eggplant is as a substitute for pasta in lasagna. Best of all, it's so easy, you barely need a recipe.
Ingredients
Dehydrated eggplant slices
1 lb ground beef or pork
1 egg
1 quart marinara / spaghetti sauce
1 8-ounce carton of ricotta cheese
1 16-ounce bag of mozzarella cheese
1/4 cup parmesean cheese
salt, pepper, oregano, basil, marjoram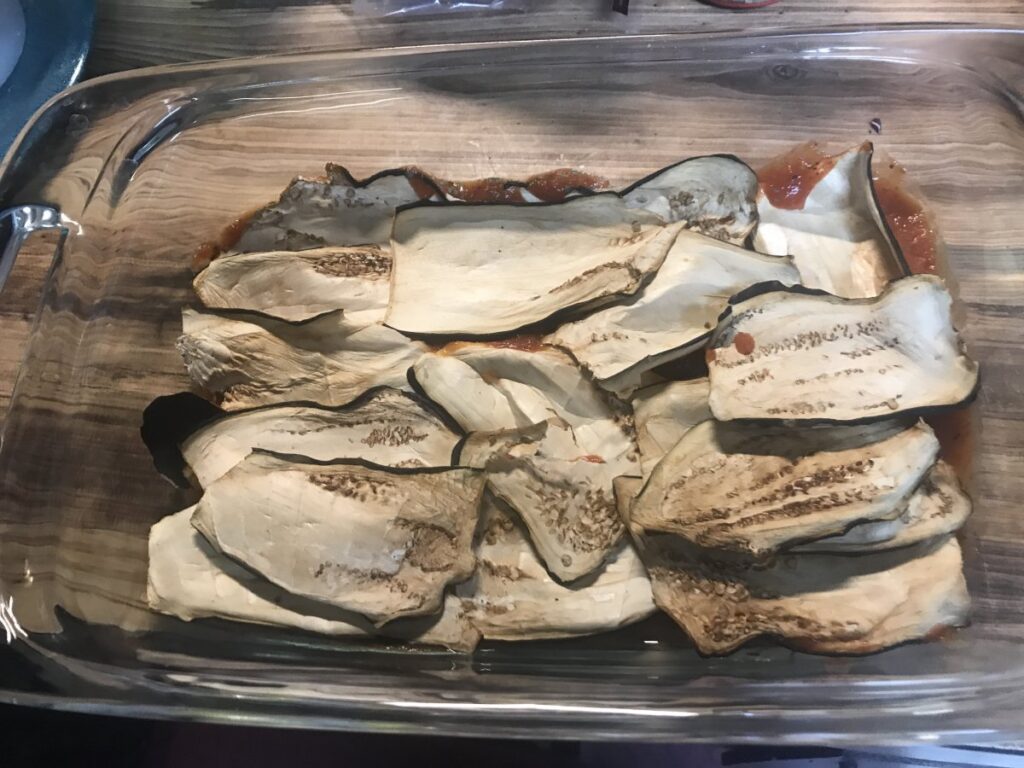 Take your dehydrated eggplant planks and soak them in boiling water for 20 to 30 minutes. If you prefer more tender eggplant, you can boil them for 5 to 8 minutes.
Drain completely and allow to cool.
Filling
While your eggplant is soaking or cooling, brown 1 lb of lean ground beef. You can also use ground Italian sausage or a combination of the two.
Once cooked, drain the beef well, and add to 1 quart of your favorite marinara sauce. This is one of my favorites, as it's incredibly simple and delicious.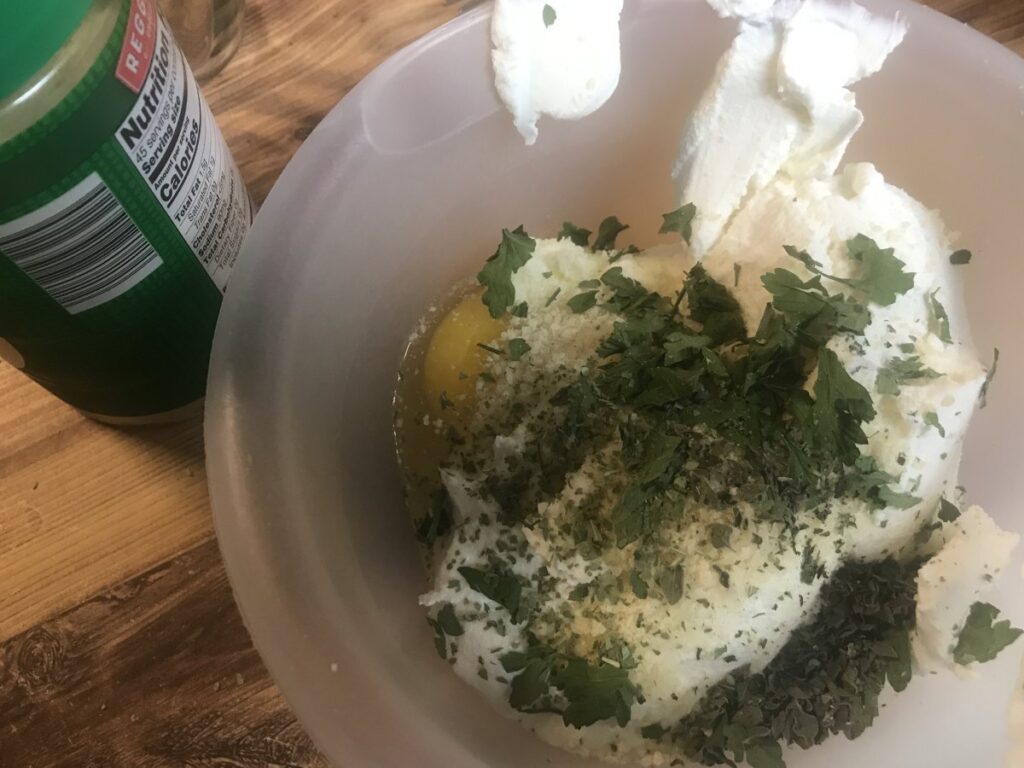 Mix one 8-ounce carton of ricotta cheese with 1/4-cup parmesan cheese and one egg. Season with salt, pepper, basil, oregano, and marjoram to taste. Mix well.
Layering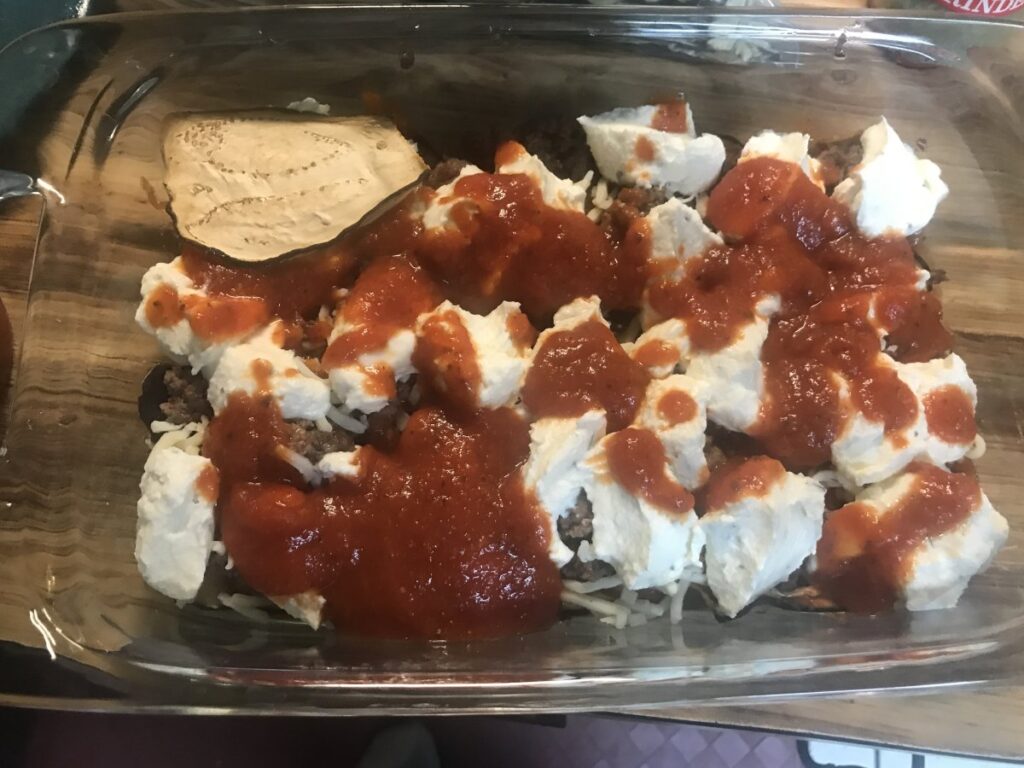 Spoon a layer of the sauce into a 9×13 baking pan, then add a layer of eggplant. Top with a layer of the cheese mixture, then a layer of shredded mozzarella.
Alternate the layers, finishing with a layer of shredded mozzereall.
Bake at 350°F for 45 minutes, until the top cheese layer is nicely browned.
No Dehydrator?
If you don't have a dehydrator and aren't ready to invest in one, check out this video on how to dry vegetables without one — using no electricity at all.
The Dirtpatchheaven YouTube channel has some great content on homesteading and gardening, and it's one of my go-to channels. Check it and and subscribe if you're interested in practical, creative, old-school homesteading skills.
Make-Ahead Lasagna
This is also an easy recipe for making ahead and meal planning. If you use a Pyrex dish, you can just wrap it after baking once it has cooled. Then, freeze the entire pan.
Defrost in the fridge or microwave and then reheat whenever you like.
Dehydrated eggplant is a super pantry staple for keto / low carb diets and it's a great way to store and use a summer glut.