With our erratic weather and poor soil, some gardeners in the South have all but given up on growing their own vegetables. But whether you live where the soil is red clay or soft sand, you can always focus on container gardening.

In fact, for years after moving to Florida I refused to try to grow anything outside of container gardening. Between poor soil and nematodes, I just couldn't take the heartbreak of watching as my tomato plants fell one by one, stricken by fusarium wilt or malnutrition.
And even though I have now cultivated some nutrient-rich garden beds over the last couple of years, I still turn to containers every growing season.

If you're one of the many that have resigned in disgust because of heat, humidity, bugs, or crummy soil, container gardening with vegetables may just be what you need to get your gardening mojo back.
Advantages to Container Gardening
Vegetables can be some of the most challenging plants to grow. Unlike flowers or decorative foliage, gardeners need to stay alert through every stage of a vegetable plant's development. It would be so much easier if we just needed to get them to grow beautiful leaves or pretty flowers.

Most vegetables require a bit more. Many of them are pretty picky when it comes to the soil quality or moisture levels. Others are magnets for voracious insects that will strip month\'s worth of growth overnight.
Luckily, some of these challenges because so much easier to overcome when you're growing vegetables in pots on a balcony or back porch.
Improved Soil Quality
The most significant advantage to container gardening is improved soil quality. Many gardeners have struggled for years trying to create the perfect loam in their garden beds. They add compost, manure, and mulch. They encourage earthworms and assemble massive irrigation systems.

But containers are easy. You can buy the perfect soil for any vegetable plant and control what goes in your planters. And best of all, you can grow a wide variety of edible plants that require diverse types of soil when you're using containers.
Sunlight and Temperature Control
While some vegetable plants need plenty of sun to thrive, others need a bit of shade to do well. With container gardening, you can move your vegetable plants around to take advantage of changing light patterns in your yard.

It's a terrific way to keep cool-weather plants – like lettuce and spinach – protected from the hot sun and extend your growing season. I grow my lettuce in containers so I can start them early in the fall while it\'s still ab it hot and grow them into May just by moving them into the shade.
Longer Harvest
If you live in an area of the South that gets the occasional frost or even freeze, you can bring your container vegetables indoors to protect them. There's no reason to let your tomatoes freeze when you can place them in a garage or enclosed porch overnight.
Gardening in a Small Space
Last, and certainly not least, if you have very little room, container gardening lets you grow more. Small yards aren't a problem when you can stack planters vertically to add space for herbs, greens, and strawberries.

Even if all you have is a balcony or tiny patio, container gardening allows you to grow a wide range of vegetables and fruits.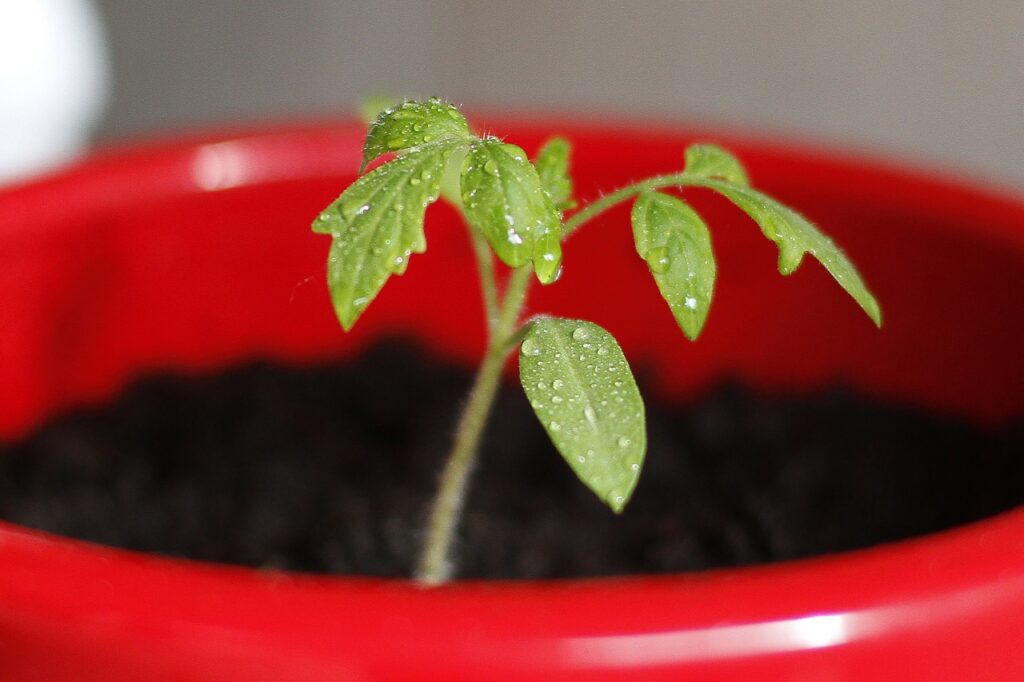 Planning Your Container Garden
If you're ready to get started growing your own fruits and vegetables in planters and pots, the first thing you need to do is devise a plan.
Container vegetable gardening 101 requires that you start keeping track of the conditions around your gardening space. Once you know how much rain and sunlight you have available in your outdoor space, you'll want to create a container vegetable garden layout.
Container Vegetable Garden Layout.
Pick out the space you want to place your containers and spend a day off seeing where the light falls in the space. You'll need at least six hours of sunlight a day to grow most vegetables. You may even want to sketch out your space the sunniest spots highlighted so you can position your plants for optimal production.

Also, get an idea of what kind of rainfall you can expect. Are there lots of trees blocking your container gardening space? What above overhangs? Make sure you have easy access to an outdoor hose bibb, in any case.
You'll also need some outdoor storage space for your gardening supplies. Whatever your good intentions, it's far easy to leave tools and products laying around. Unfortunately, this leaves them vulnerable to rust and degradation.
Make sure you have a watertight shed or cabinet for storing your tools and supplies.
Best Vegetables for Container Gardening
Once you have your space picked out, you'll want to decide what kinds of plants you want to grow. Make sure the plants you choose are suitable for container gardening. But don't be too surprised by the variety you can still grow in a pot.
For example, it never occurred to me to start growing snap peas in pots until I watched a little-known gardening show from Ireland that proved that they can do better in containers than in the ground.
Container gardening lettuce is also an easy-peasy solution for fresh salad greens. I grow my lettuce in shallow containers, planting a fresh one every week until I have about 12 growing at any given time. I use the cut and come again method, starting at the most mature. By the time I get through the last one, the first one has grown back enough to harvest again.

Container gardening herbs is one of the easiest steps for new gardeners, and many choose a large container to grow a number of different herbs together. However, make sure that you don't mix herbs with different growing needs. Mediterranean herbs, like oregano, rosemary, and thyme, all need drier conditions than fast-growing herbs with high demands like basil, tarragon, and mints.

One excellent method to approach container gardening is to choose compact varieties of your favorite plants. For example, if you want to grow tomatoes, consider patio tomatoes or even Tiny Tim or Tumbling Tom varieties.

If you're keen on beans, then consider bush beans instead of pole varieties, which need 6 feet of trellis and can run amok.
If you're brand new to gardening, pick a handful of basic vegetable plants that you know you'll enjoy eating. Check with your local extension office to find out what's growing best this season.
Simple Container Garden Ideas
And if you just want to dip your toe into container gardening, consider the following themes for one or two planters to get started:
Salad in a Planter
In a large planter, add Tiny Tim tomatoes, Mesclun mix lettuce, a few radishes, and maybe a fast-maturing bush variety of cucumber. EarthBoxes and other self-watering containers are perfect for "Salad in a Planter" setup
Mixed Herb Container Gardens
Another great container gardening idea for beginners is mixed herb container gardens. Depending on the varieties you want to grow, you may need two or three large containers. For most culinary herbs like oregano, rosemary, thyme, and marjoram, you'll need one large container with low-nutrient soil with good drainage. For lusher herbs, like basil, tarragon, parsley, and cilantro, add another container with richer potting soil and even a self-watering reservoir.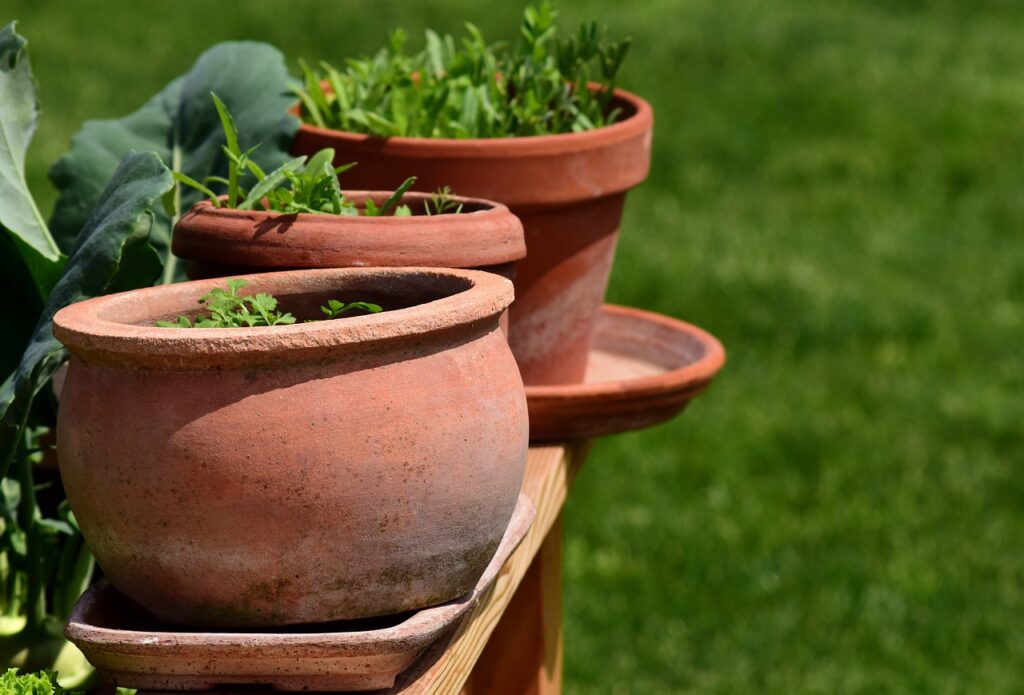 Best Soil for Container Vegetables
The best soil for container gardens really depends on what you're planning to grow. Most vegetables have optimal conditions depending on their origins. Most do well with potting soil mixes that contain organic material and soil lighteners, for loose potting soil.

Check the label on your potting soil and look for things like peat moss, coconut coir, tree bark, vermiculite, and perlite.
It's possible to use plain garden soil from your yard, but you'll need to amend it drastically if you have poor soil, like I do. However, British horticultural hero, Monty Don, recommends putting a shovelful of garden soil in containers to add natural bacteria and micro-organisms. So, don't worry if you accidentally used garden soil in pots for container gardening.
Tips for Choosing Containers for Gardening
Now that you know how much space you have and what you'll be growing, it's time to choose containers. For safe container gardening, make sure you use natural materials or at least food-safe plastics.

That said, you can find many cheap containers to grow vegetables by using a little imagination and by recycling and upcycling old materials. Some gardeners – like myself – have been reusing the same free landscape pots from other plants for years and years.
Safe materials
While you want your container garden to look attractive, you also want to be sure you use materials that work well for your vegetable plants. For example, terra cotta is a classic beauty, but here in Florida, they dry out far too quickly to sustain demanding veggies like tomatoes and eggplant. I only use them for culinary herbs and arid-loving ornamentals.
If you're planning to move your vegetable plants often, you may want to stick to plastic containers. Some are quite decorative and best of all, easy to move.
The color of your containers can also impact your vegetable plants. Here in the South, dark containers can kill delicate vegetable plants in a single summer day. They\'ll absorb heat from the sun and send the temps in the soil skyrocketing. I only use these in the winter or in partial shade. The rest of the time and in very sunny spaces, I stick to light-colored pots.
Size counts
While many gardeners start seeds in small starter trays and move them to larger pots later, you don't want to have to transplant your vegetable plants too often.
Transplanting is sure to cause a little shock, and since vegetables need to grow and flower and fruit so quickly, you don't want to set them back any more than you must.
So, make sure you have large enough pots for your container gardening, depending on the mature size of your plants.
Some common container sizes and the plants they accommodate are:
Half Gallon Pots
Bush Beans
Herbs
Salad greens
One Gallon Pots
Cabbages
Cucumber
Green beans
Leaf lettuce
Spinach
Chard
Cherry tomatoes
Patio Tomatoes
Three Gallon Pots
Eggplant
Sweet and hot pepper
Determinate tomatoes
Broccoli
Five Gallon Pots
Indeterminate tomatoes
Squash
Zucchini
Seven- or Ten-Gallon Pots
Potatoes
Sweet Potatoes
Blueberries
You can also grow a number of different vegetables in larger pots and planters, such as planting 12 to 14 peas in a three-gallon pot, etc.
DIY Garden Containers
You can even try your hand at getting creative by making your own garden containers. Many gardeners swear by five-gallon buckets from their favorite home improvement stores or local bakeries.
One year, I was enthralled by the idea of grow bags, but I didn't want to spend the money to buy the 40 or more I needed. So, I just purchased some landscape fabric from the fall clearance section and sewed my own.
You can aim for practical or whimsical, but either way, before you take out the recycle bin, do some shopping around inside to see if you can convert anything to a growing container.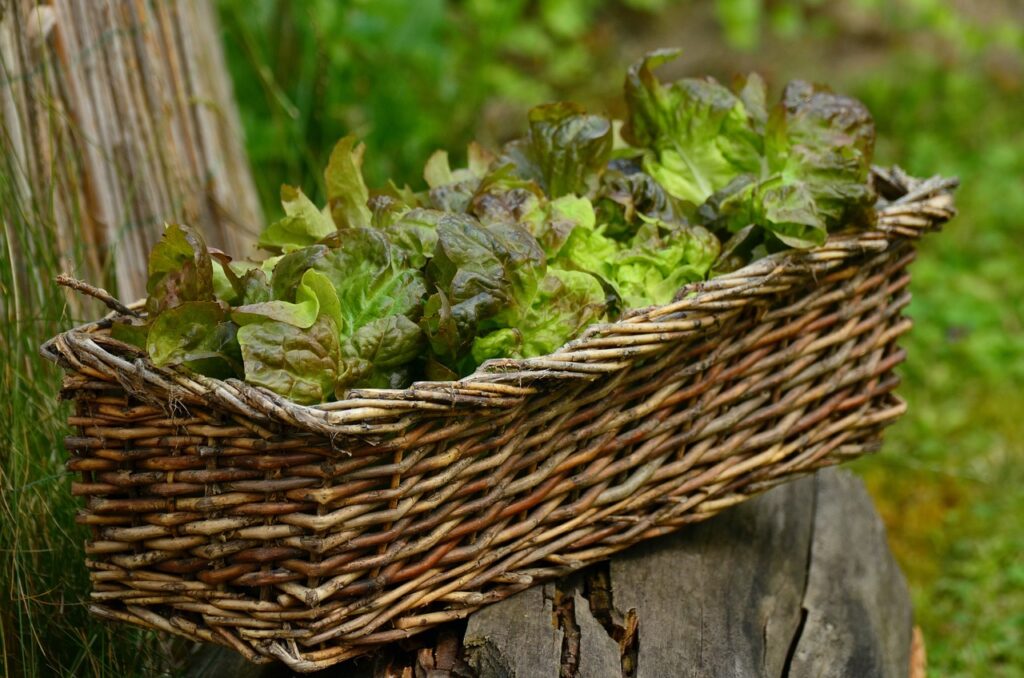 Container Gardening Tips
Now that you're ready to start growing your healthy veg the easy and convenient way, here are a few pro tips to ensure a good crop.
You may wonder how often water container plants. The bad news is that containers can dry out very quickly, especially in the summer months. You may need to water up to twice a day. Consider self-watering containers or adding trays for a water reservoir under your containers.
Fertilize often and early. You can add organic matter or slow-release fertilizers, but since the resources your container plants have available is pretty limited, you may want to use liquid fertilizer. You can choose fish emulsion for an organic option or simple Miracle-Gro tomato food.
For the most bang for your buck, plant your vegetables sequentially. If your bush beans mature fully in 60 days, make sure you have something ready to go in starter trays to replace them for the rest of the season. Mix in a little composted manure after harvesting your beans and then add seeds you've already started for squash or cucumbers.
Get Growing
As winters grow increasingly mild in the South, the time to start container gardening with vegetables can be all year round. Here in Zone 10a, we're enjoying 76 to 80-degree sunny days with mild nights that are perfect for fall and winter vegetables.
The best part is that if we get a cold snap, I can move my container gardening onto a warm, covered porch or even indoors. They're also easier to cover with fleece when they're in containers because I can huddle them together for warmth and cover more than one at a time. When the temps rise the next day, they can go back into their sunny slots in the yard.
Ready to grow your own? What are your favorite vegetables for container gardening?